We are truly devastated by the news that our license was refused and therefore we have no option but to cancel this year's festival. We will be back in 2013! keep looking in peeps for news as it unfolds xxxx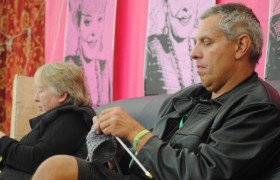 2011 saw the Bet Lynch Tent double in size and  s/he didn't half grow into the space as if always that size. The living room was huge but just as kitsch & the larger tent also meant a larger stage, which showed off some amazing talent.
2012 was to be equally delicious and diverse and with the addition of a Bar and it was all  going to be so perfect! We were also planning our very first Spoken Word/Poetry Session with Dean Atta, http://youtu.be/Lqv6oU2wBJg  Emma Decent, Alison McCabe, Midnight Shelley and Matthew Bellwood
We're leaving space for the Theatrical, Gypsy circus vibe In 2012 and we'll be welcoming The Long Finger Bandits and  King Twit for their debut performance.
The Miserable Rich perform what NME described as "heartbreakingly beautiful" music. They are stunning to see live and we are thrilled to have them play on the Bet Lynch- in Transition – Stage at this year's Limetree Festival.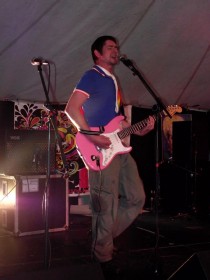 Ste McCabe is back, to make it three in a row but not just  bringing his own Electro Queer Punk sound and thought provoking lyrics to an audience who can't help but adore him, Ste is bringing a wee Scottish showcase of queer underground music with Maria & The Gay and Scarfight.
We were all spell bound by the fresh new talent of singer/song writer Jasmine Kennedy appearing last year and in 2012 Jasmine is hot news- from the prestigious SXSW festival in Texas to been tweeted about by actors in Glee, Jasmine is receiving the attention she rightly deserves and we're delighted she will be back in 2012 along with Alfie Ordinary and Unique, as well as  a veritable feast of young talent on the Bet Lynch – in transition- stage, with a the line up that includes Natasha Johansson, Rebecca Arundel and the fabulous Clifford Village Band making their final gig together -it's just all too exciting!
Making her Limetree debut on the queerinspace comedy stage this year is the hilarious Rosie Wilby and we're equally delighted to have Shelley Cooper back for another year sharing her sharply observed wit.  And just confirmed is Manchester based comedian Jonathon Paylor bringing a dry wry humour to the camp kitsch Bet Lynch.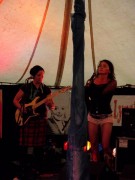 That's all just now …..We'll be back in 2013!!! Keep in touch! xxx
The Story of Q
Serendipitously, a few friends were helping out at the first Limetree Festival in 2008. We came 
along for the experience, not expecting to be blown away by 
the festival! But everything about Limetree was a total treat- the space, the
 music, the atmosphere and the diversity. 
And that's what planted the seed of a queer performance tent. When the festival season ended, the idea was shared and in true Limetree fashion queerinspace soon became part of the family!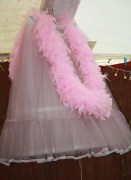 So, what about the name? Well queer certainly appeals because it
 does allow folk to engage with its meaning in different ways. It can (and does 
have) political connotations but it also appeals to people who don't want to be
 constrained by boxes that fix them into a rigid definition and way of behaving 
around gender and sexuality but rather it allows for fluidity – something that
 isn't fixed…And so the name 'Queerinspace' is very much about inviting folk
 to query/question and be part of its fluidity. In short, it's an invite to come 
on the journey…..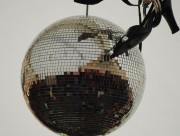 Queerinspace is a journey of collaborations The space hosts queer performance as well
 as providing a welcome and safe place to chill out, to be, to explore and dress
up and be part of something outside of the box. But don't expect to only see 
performances that are defined as 'queer' – we are part of the whole festival and
 we've become ever more integral to the whole, we have a gorgeous little stage 
that we open up to musicians who work well with the intimacy that the space
 provides and since 2010 Bet has been known to make an appearance ….But in 2012 Bet is in Transition – but you will have to be there for all to be revealed…